Full match results from last night's #PPW79 taping at Premier Pro Wrestling studios in Woodstock, IL.
February 20th – Woodstock, IL
Before we get to results, we here at PPW want to send out an enormous thank you to everyone who came out to Woodstock last night to make it a sold out taping!
– SINGLES MATCH –
"IRISH" ANDY ANDERSON DEF. "THE SCIENCE" MARCUS SMITH
Having both been previously eliminated from the PPW World Heavyweight Championship tournament, Marcus Smith and Andy Anderson were both looking to gain back a little bit of momentum. However, once again, Marcus Smith became too focused on the fact that the Premier Planet weren't laughing at his jokes and that allowed Andy Anderson to take advantage and pick up a much-needed pin fall victory.
– PPW CHAMPIONSHIP TOURNAMENT SEMIFINAL MATCH –
CHASE GOSLING DEF. "THE WORLD EXCLUSIVE" MATT VINE
With gold at stake, friendships in the Premier locker room were put on hold and nowhere was this more apparent than in the matchup between best friends and Axis of Ego tag team partners Chase Gosling and Matt Vine. Both had previously proclaimed that they would meet each other in the finals and, instead of duking it out to see who would wear the gold, would reign as co-champions. However, that was not to be the case and the two were forced into competition with each other to see who would go on to the finals and, in the end, it was Chase Gosling who picked up the victory, sending him to the final round.
– PPW CHAMPIONSHIP TOURNAMENT SEMIFINAL MATCH –
"THE HUMAN VIDEO GAME" SCOTT COLTON DEF. INIESTRA
For the second time in one night, the Premier Planet witnessed best friends lock up when "ya boys" stepped into the ring. After countless high risk maneuvers, near falls, and multiple chants of, "This is awesome," from the Premier Planet, "The Human Video Game" was the one to finally end things when he and Iniestra both ended up on the floor and, with barely a second to spare, was able to roll back into the ring before the count of ten. This victory earned Colton his place in the championship finals where he would later face the other semifinal winner of the evening, Chase Gosling, for the PPW World Heavyweight Championship. Before leaving the ring to celebrate, however, Colton, in a display of pure sportsmanship, extended a hand to Iniestra who humbly accepted despite having just seen his hopes of becoming PPW World Heavyweight Champion go up in smoke.
– SINGLES MATCH –
"TEXAS" PETE DEF. HUEVOS DE ORO (PPW DEBUT)
In an impressive debut, PPW's newest acquisition, Huevos de Oro, a masked luchador from just south of the border, had a strong showing against the eccentric veteran, "Texas" Pete. The experience edge was too much for the newcomer, however, and "Texas" Pete was able to hand the luchador a heartbreaking loss on his first night in Premier Pro Wrestling.
– TAG TEAM MATCH –
CUTTA CROSBY & WILL DA BEAST DEF. ZERO 1 & ZERO 3
Despite utilizing several underhanded tactics on top of their combined martial arts expertise, Zero 1 & Zero 3 fell victim to the combo of Cutta Crosby and the 385 pounder from the concrete jungle, Will Da Beast, after Will, using his impressive strength, hoisted Cutta into the air and dropped him across the chest of Zero 1.
– PPW CHAMPIONSHIP TOURNAMENT FINALS –
"THE HUMAN VIDEO GAME" SCOTT COLTON DEF. CHASE GOSLING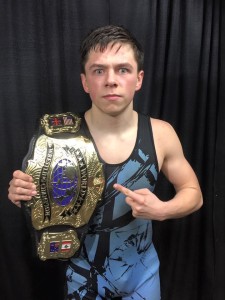 After over a month of tournament matches, it was finally time to crown a new PPW World Heavyweight Champion! With everything on the line, Scott Colton and Chase Gosling threw everything they had at each other until Colton utilized his speed to pick up a pin fall victory over Chase! As Colton was celebrating, however, Chase asked for the announcer's microphone and reminded Colton and the Premier Planet that the tournament was being held under double elimination rules. Chase, having gone into the final undefeated, had only been beaten once and, therefore, had to be beaten a second time in order for Colton to rightfully claim the title. Disappointed, but never one to shy away from a fight, Colton reentered the ring where Chase put an absolute beating on him. After a devastating "mustache ride" powerbomb, Chase thought he had claimed victory when the referee saw Colton's foot on the bottom rope, thus breaking the count and leaving Chase a ball of frustration. The match continued until Colton — fast as lightning — took advantage of a split second opening and, from there, was able to keep Chase's shoulders down for the 1, 2, 3 and finally claimed the PPW World Heavyweight Championship!!! An emotional scene developed as Colton was awarded the belt and several members of the Premier roster, including Colton's tag team partner, Iniestra, whom Colton had beaten earlier in the evening in the semifinals, came to the ring to celebrate the realization of a dream. The celebration was cut short, however, by the sudden reemergence of the one and only Ronny Metro who hasn't been seen in Premier Pro Wrestling for over a year! Being one of the six individuals to have earned an official WWE tryout thanks to PPW's business connection with NXT, Ronny entered the ring singing his own variation of the Queen classic "We Are the Champions" and challenged Colton to a championship match next Saturday night! Colton told Ronny that he was going to be a fighting champion and accepted the challenge!
A big congratulations to the new PPW World Heavyweight Champion, "The Human Video Game" Scott Colton, and another big thank you to everyone who came out to the Premier Studio last night and sold it out!!!
BUY TICKETS for our next show February 27th in Woodstock, IL.